If you've been following our blog for a while, you're aware that Ipsun has been advocating for an extension of the solar Investment Tax Credit (ITC) for several years. We have worked with our Amicus Solar Cooperative and the national Solar Energy Industries Association (SEIA) to lobby federal legislators, and were successful at the end of last year in getting the tax credit extended at 26% through 2022.
But we need to go bolder. While tax policy may seem boring, the ITC has in fact been shown to be the single most effective climate policy on the books for several decades. An extension through 2032, and a bump back up to 30% has the potential to accelerate solar adoption exponentially. Equally important, including low- to moderate-income homeowners (who represent 26 million rooftops), in the credit through a direct payment option is crucial.
According to SEIA, to reach 100% clean electricity by 2035, annual solar deployment from 2024 to 2028 will need to be twice as large as the current forecast. The solar ITC plus direct pay can go a long way to getting us there.
Help Keep the ITC Extension in the Reconciliation Bill Being Written in Congress Right Now
President Biden's Build Back Better plan is being written into policy right now in congress through the budget reconciliation bill. Last week the House Ways and Means Committee published its "Committee Print for Subtitle G" —the list of clean energy recommendations for the bill. Subtitle G details new and existing renewable energy and energy efficiency incentives to be included within the budget resolution, including a 10-year extension of the ITC. Woohoo!
But, we need to ensure that the ITC Extension remains in the bill throughout the markup process, which could see legislators removing many of the clean energy policies in order to get it passed.
And while we're thrilled to see the ITC Extension included in the current language, we are disappointed to see that it does not include a way for lower-income people who may not have enough tax liability to benefit from the tax credit.
We Need a Direct Pay Option for Low to Moderate Income Homeowners
The current proposal extends the ITC in full for 10 years before phasing down the credit value between 2032 and 2033, which is great. But it leaves residential projects out of the direct pay option for this credit. Any homeowner who doesn't make enough money to benefit from the solar tax credit is essentially left out of this incentive—we think it's only fair (and a no-brainer) to offer these homeowners a direct rebate on the amount that the tax credit would represent.
Direct pay for Section 25D homeowners will:
Allow low to moderate-income (LMI) families to receive their entire subsidy in a single year, freeing up the capital to purchase renewable energy systems.

Increase energy independence and expand rooftop solar in an under-served and under-represented market.
Guarantee lower and more reliable electric bills for families that need it the most.

Create local jobs in a high-demand industry.

Advance the President's Justice40 agenda by broadening ownership of residential renewable energy systems.

Mitigate catastrophic climate change impacts.
There are 26 million homes that could have solar on them if those families could make use of the federal solar tax credit—and it makes us mad that, so often, higher-income people have a way to get a discount and less well-off people have to pay full price. This is fundamentally wrong. We hope you'll join us in our effort to include direct pay in the reconciliation bill.
This week, we are all hands on deck— we have joined a coalition of 350 climate, industry, and grassroots groups at Residential Renewables for All working to get direct pay for homeowners included in the Reconciliation Bill. Right now, we truly have a once-in-a-lifetime chance to enact meaningful climate policy. So let's join together and take action! Read on to learn how you can help.
You'll find a sign-on letter to federal legislators, plus tons more information and talking points on the website, as well as a way to click through to contact your legislators directly. If you need a quick, easy comment to use, you can call the legislator's office–the staff will include your comment in the record–and you can simply say, "I urge the (Senator/Congressperson) to include direct pay for Section 25D homeowners in the ITC extension in the reconciliation bill."
Easy-peasy! And we promise, this makes a big difference to these legislators to hear from their constituents on this issue. If you want to say more, read up at resirenewables.com about direct pay.
If you want to learn more about the reconciliation process as it pertains to climate policy, we recommend this great update by one of our favorite clean energy journalists, David Roberts: A close look at the clean energy legislation offered by House Democrats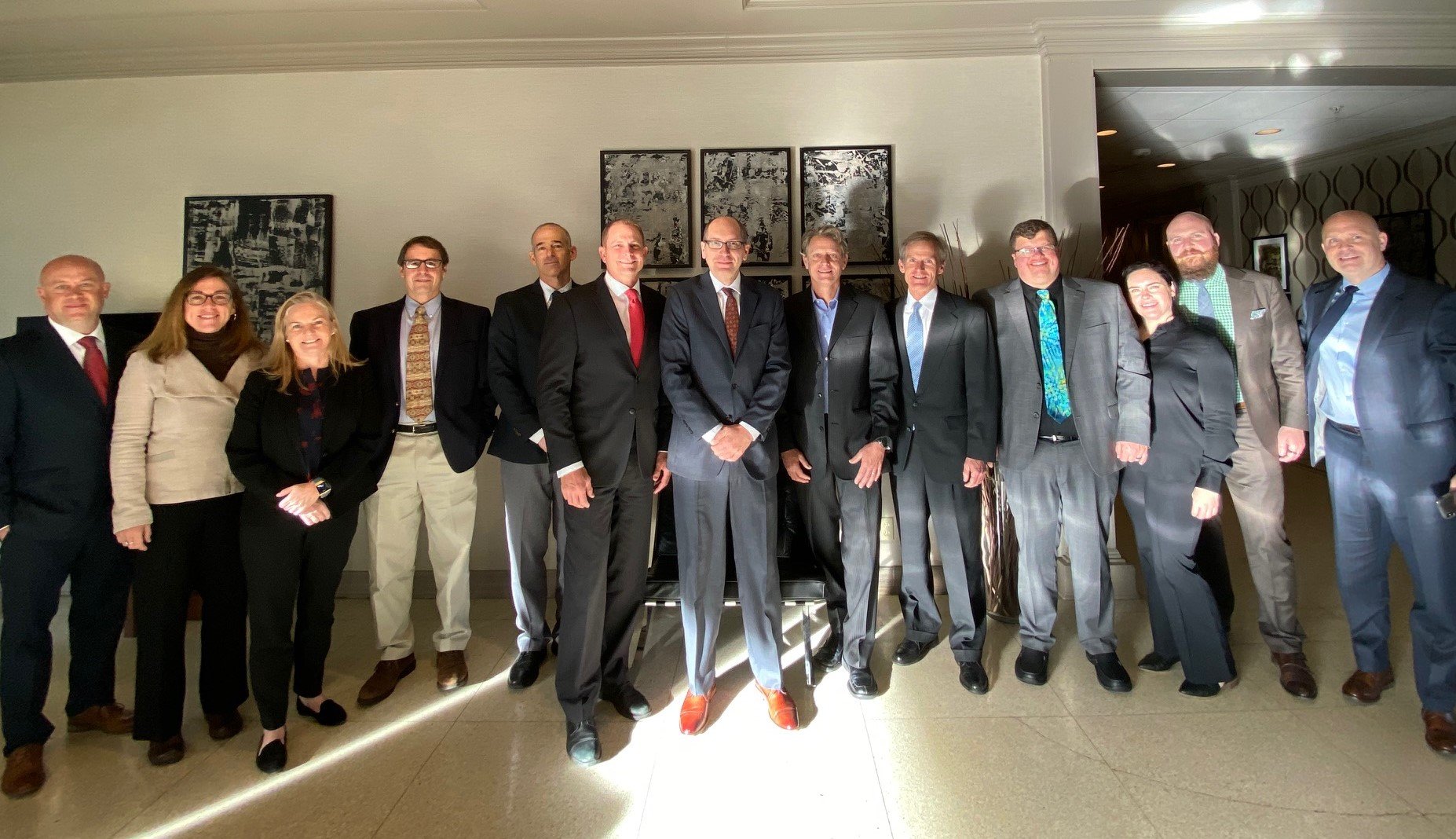 Amicus lobby day in pre-Covid times. Those were the days.
What has Ipsun been up to the past few weeks to fight for ITC extension with direct pay?
Ipsun has joined with the Amicus Solar Cooperative to call for the direct pay option. We have signed on to an Amicus group letter to congress asking for direct pay, and have lobbied with Amicus with this important request for equity.
In two recent meetings with Senator Warner's staff, we were able to help explain the urgency. One was organized by the Solar Energy Industries Association, during which Ipsun was able to explain how the ITC has not only benefitted our customers by making solar more affordable, but it has also benefitted our company by allowing us to pay our crew members a good living wage and provide benefits including full health care coverage. The creation of good-paying jobs is one of the true promises of the renewable energy future, and we were able to show how Ipsun relies on the ITC to make good on that promise.
In another meeting with Senator Warner's office this week, we explained the importance of Direct Pay 25D to his staff and are hopeful that he will understand the basic inequity that omission of residential direct pay represents. Now you can back us up by calling your senators and congresspeople too!
Call Now and Spread the Word!
Please share this info from Resi Renewables with family and friends, spread it far and wide on social media, share this post and our social media week of action posts—do whatever you can to get as many people urging their legislators to boldly act on climate in line with the IPCC recommendations and science.
Stay tuned as we will continue to share climate actions you can take in the coming days. What Congress does in the coming weeks may have a huge impact on whether our kids and grandkids have a livable future. Let's make as much noise as we can.